Issue No. 16
Reach > Product
When it comes to growing a SaaS startup, is Reach > Product. How lack of marketing can kill a great product.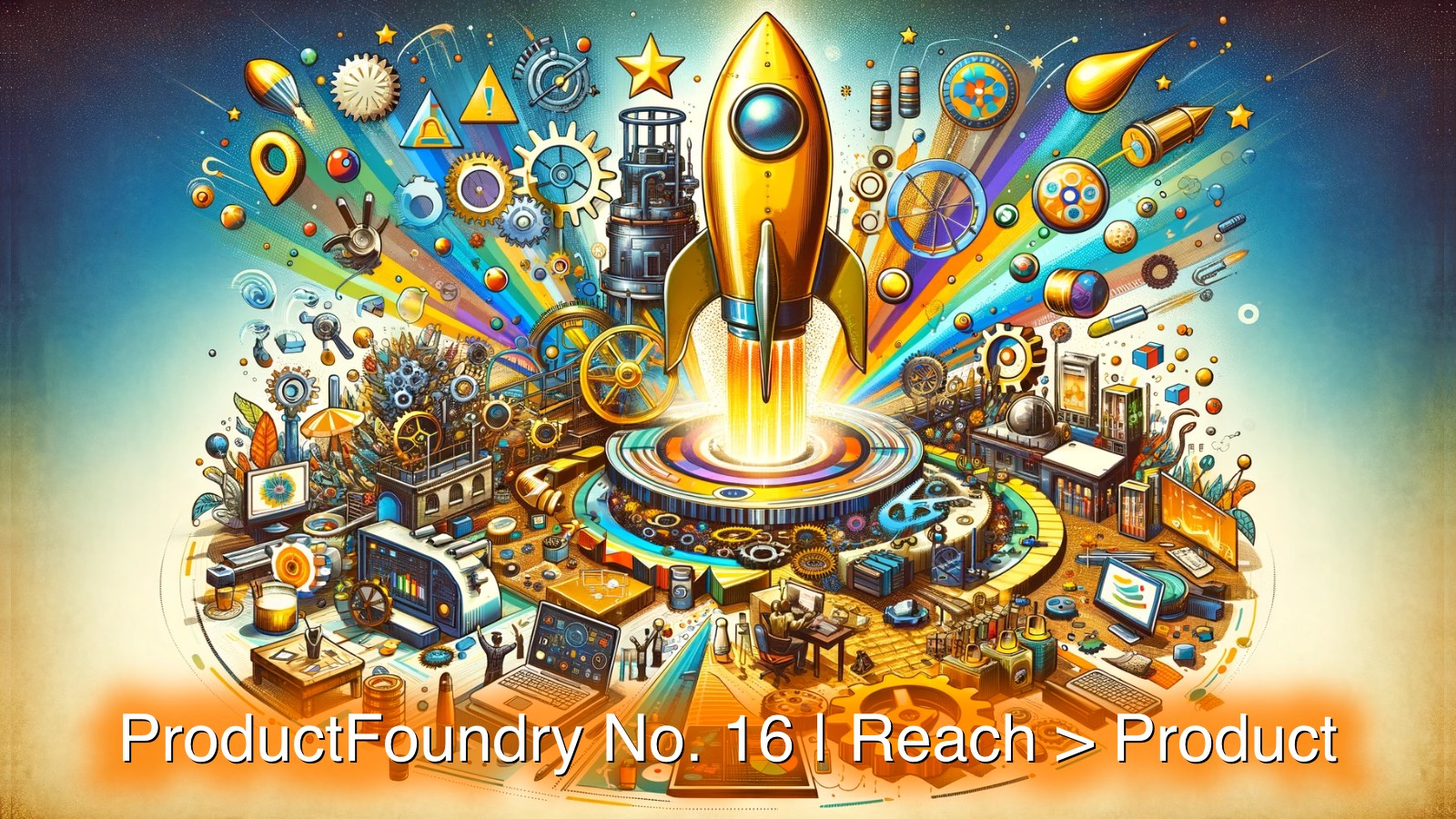 Source: DALLE, told to extract key phrases from this newsletter, create a prompt and using the style illustrative, colorful, futuristic create an image.
👋 Welcome back to this week's edition of the ProductFoundry newsletter!
Every ~~Monday~~ Sunday, I send out a newsletter covering a startup topic to help you build greatness into your SaaS, from metrics, strategy, new technologies, and customer engagement to market research (and more).
This week's main topic is Reach > Product.
But first… changes are coming!
---
What you'll read this week:
Changes to ProductFoundry
Reach > Product
I've gone full time bootstrapping
Weekly Interweave Bootstrapping Update
Enjoy!
---
ProductFoundry Updates!
At the beginning of this year I started ProductFoundry for two main reasons:
I wanted a side project
I love the startup/bootstrapping space
With years of startup experience, I wanted to give back to the community, find my voice, and share my journey.
That slowed down this summer because of "reason". But, I'm not done.
In fact, I'm doubling down!
Literally.
Starter Stories — New Wednesday Edition
Starting November 22nd, I'll send a second weekly newsletter featuring Starter Stories. Where I interview other bootstrapped founders on crucial lessons they've learned.
I'm very excited and think you'll enjoy this new series.
ProductFoundry - Sunday Edition
This format will mainly continue as-is. I'll be doing a couple of things with it.
Essays on industry insights (like below)
A deeper look into building Interweave and AskJack, I plan to share quite a bit
And I'm moving it to Sunday instead of Monday
SaaS ~~Directory~~ Ready
The SaaS Directory is also getting a HUGE revamp. Instead of an AirTable list, it will become the SaaS Ready Guide.
I'll write new sections weekly (featuring an area each Wednesday) on various aspects of building a SaaS company. It will cover everything from picking your stack (the one you know!) to payments and billing, email sequences, SaaS metrics, funding options, and more.
My desire is to have a single source for every SaaS startup topic.
New Website!
I purposefully chose to develop my own site when I started ProductFoundry. It was pretty utilitarian, but from day one, I've had something more significant in mind for ProductFoundry.
The new site will be out this week, and that vision is starting to become a reality.
I hope you enjoy the new ProductFoundry as much as I have enjoyed creating it.
---
Reach > Product
Let me tell you a story in 3 acts.
Act One - Launch an Idea
A new startup founder has an idea and immediately jumps into code, builds a product, and launches it.
They have no sales.
Act Two - Think you're marketing, but you're not
So they hop on Twitter and land a few sales.
They hit $100 MRR, then $500, and it stalls there.
(Unless they launch a tool for startups, and their community on Twitter is for startups, an all too common theme. Then they stall at $1k MRR).
Act Three - They Fail
And for many that's where the story ends.
Stalled growth. The end.
…
But it doesn't have to be this way.
Just learn to market!
From day one!
You have let the world know your product exists.
And if you want your sales to scale, your marketing will need to as well.
This tweet by Mike says it so well.
The single most important lesson I've learned in SaaS

Volume is the key to growth

Before cold email was viral - We would scrape and email 40,000 leads PER WEEK

It took us from 0 -> 6,000 users in less than 9 months

Your low MRR is a volume problem not a product problem
And here's a great example from Tim Bennetto on Pally's growth. (bold mine)
Pallyy's MRR:

6 months: $900
12 months: 1.4k
18 months: 1.4k
24 months: 3k
30 months: 17k
36 months: 29k
42 months: 51k
47 months: 61k

This is what happens when you focus on 1 project.
What led to the sudden growth in MRR from months 24 to 30?
Marketing.
That was Tim's response.
That, my friends, is why I say on Day 1, start figuring out Marketing. What channels will you use to reach our ideal customer?
Your reach, distribution, etc. Your ability to get in front of your ideal customer. It matters.
Which leads nicely to…
---
I've gone full-time bootstrapping
After ten years with a startup in cybersecurity, on Monday, November 6th, I started as a full-time bootstrapper.
But I want to clarify something. I'm not saying we'll only do bootstrapping. I'm saying this is how we're starting out, and then we'll see.
Here's our current thinking on bootstrapping and funding.
VC funding has fundamentally changed in the last year.
I've seen VC funding up front and think it leads to excesses (maybe that'll change since the mantra is no longer growth at all costs)
I know numerous founders who, when their company is sold, own less than 10% of the company they poured their lives into.
Thus, we want to take a measured approach to funding.
Bootstrapping (if you can) allows us total freedom.
And frankly, to get most companies off the ground initially and get some traction doesn't require funding.
Once we get some traction, we may decide to get some funding to hire a few things out.
There you go. I know this will continue to evolve.
---
Bootstrapping Interweave Update
Want the inside scoop into Interweave? I share it only with subscribers to the ProductFoundry newsletter. It's free, signup today!
---
Till next week!
Join the ProductFoundry Newsletter
Signup for weekly insights into making great SaaS products and companies.